How to Track My Dynamic QR Code and View the Scan History?
To streamline the process of creating, customizing, and QR code tracking, QR Code Generator Hub offers a Shopify app that is equipped with a range of features.   


The QR code generator is designed to enhance your QR code campaigns and marketing strategy with ease. 

What's more? The app's core functionalities are available free of charge, making it accessible to all Shopify merchants – regardless of whether they are small or big eCommerce businesses. 
Why QR Code Generator Hub Shopify App? 
QR code tracking has become an essential part of modern marketing strategies.  

The emergence of dynamic QR codes allows businesses to engage with customers in innovative ways.  

Dynamic QR codes are two-dimensional barcodes that can be scanned by smartphones, directing users to a specific webpage or offering exclusive deals. They provide a seamless connection between the digital and physical worlds that enable customers to access relevant content instantly.  
How to Track QR Code Scans in the QR Code Generator Hub app? 
Aside from custom and
bulk QR code creation
, the true power of the QR Code Generator Hub app lies in its trackable QR code scans and provides valuable insights.  

Through dynamic QR codes, you can make changes even after printing, without worrying about outdated information.
Access
the app's
scan history, statistics and QR code metrics, to gauge the success of your marketing campaigns. This will help you learn which QR codes are driving the most engagement and adjust your strategies accordingly. 

Follow these steps to track QR codes and gain valuable data for campaign optimization:
Step 1:
Upon logging into your Shopify admin, navigate to the left panel and click the "QR Code Hub" app.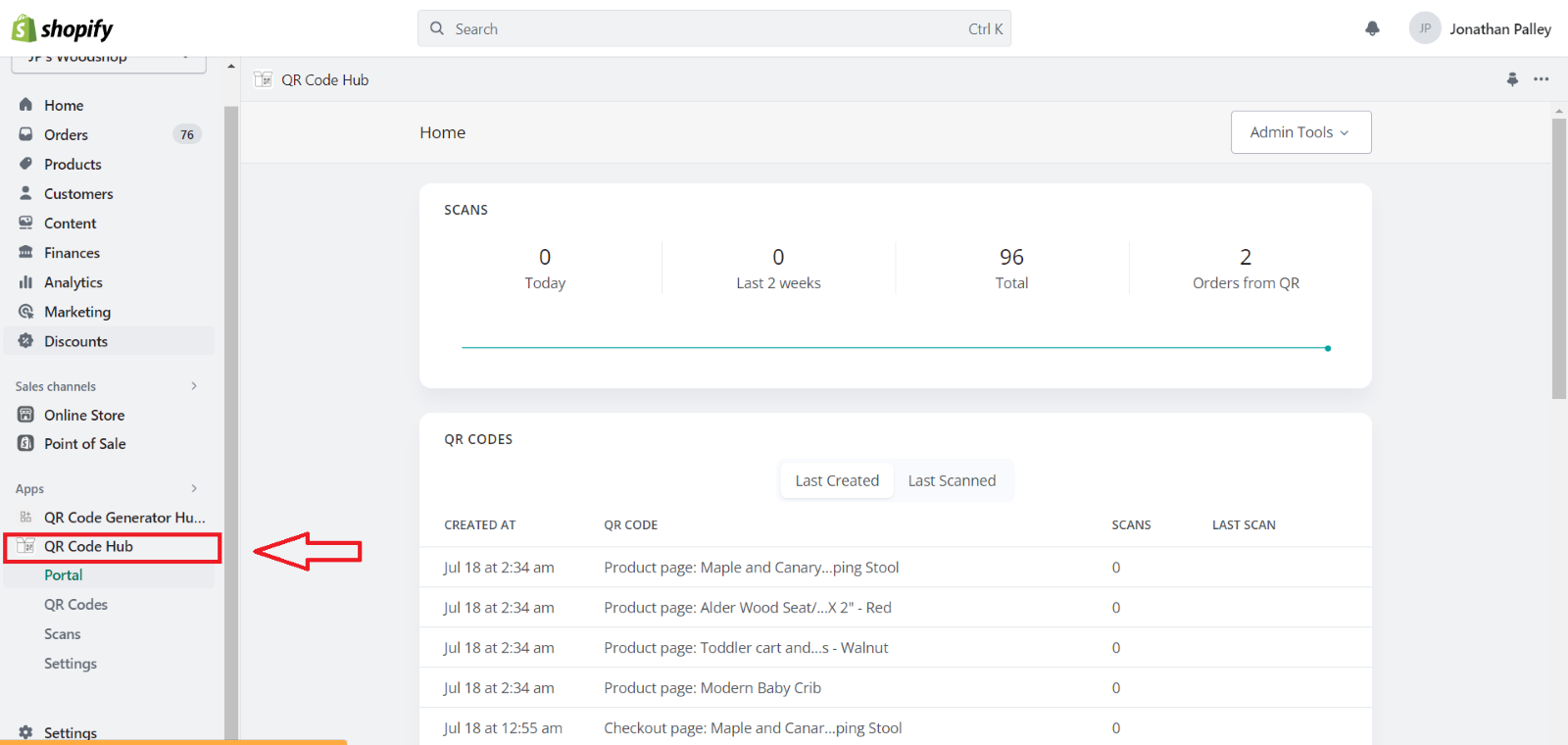 Step 2:
After clicking the app, it will reveal a dropdown where you can access additional functionalities. For this step, you want to choose "Scans." This will open a dashboard where you can view all analytics related to your QR code scans.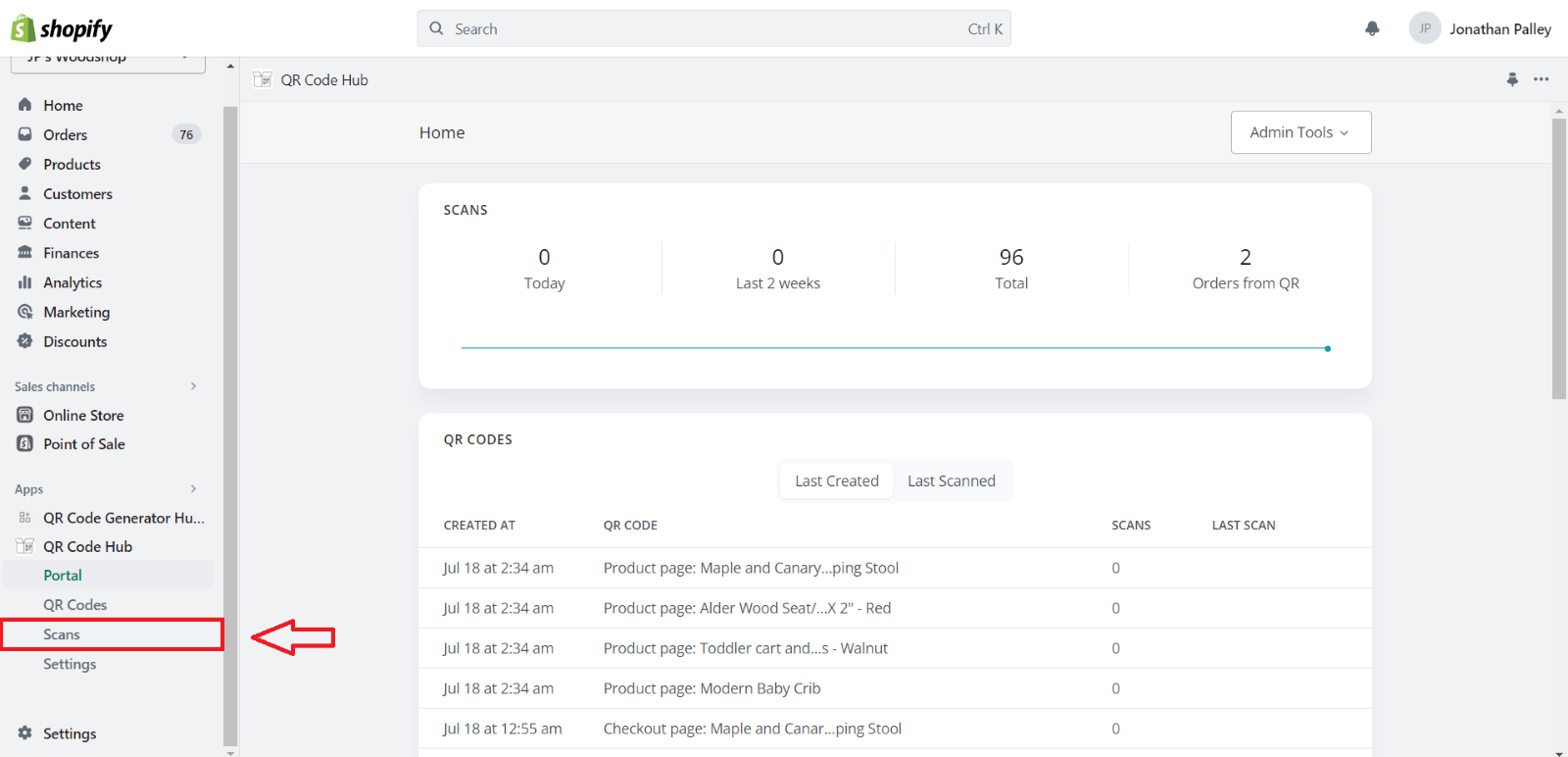 Step 3:
Take a closer look at the individual QR codes' scan performance. Observe the number of scans, scan locations, and the devices used for scanning. These metrics will offer valuable insights into the popularity of specific QR codes and the effectiveness of different marketing channels.

What to do with the QR code Analytics? 
The QR Code Generator Hub app allows you to view scan trends over time. And there are many ways you can use this.  

This includes the following: 
Observe how scan activities fluctuate during different periods and analyze any spikes or declines. Understanding these trends can help you identify the most opportune times for launching campaigns or promotional offers. 
Take advantage of the platforms and browsers your audience uses to scan QR codes to optimize user experience. With the app's scan history, you can determine the preferred platforms (iOS, Android, etc.) and browsers (Safari, Chrome, etc.) your customers use, allowing you to tailor your campaigns accordingly. 
For more comprehensive data analysis, consider upgrading to the pro version of the QR Code Generator Hub app. With Google Analytics integration, you can correlate QR code scans with other website activities, providing a holistic view of user behavior. 
By tracking the scan history and analyzing performance data, you can identify high-performing QR codes that resonate with your audience. Use this information to replicate successful QR code strategies or make data-driven improvements to underperforming ones. 
Conclusion
Tracking QR codes through the QR Code Generator Hub app empowers Shopify store owners with valuable data to enhance their marketing campaigns.  

Now that you are armed with valuable scan data and insights, you can start to optimize your marketing strategies. Make sure to tailor your campaigns to align with customer preferences, refine targeting, and create personalized experiences for your audience.  

By continuously tracking and analyzing QR code scans, you can refine your marketing efforts and drive higher engagement and conversions.