Using QR Codes to Streamline Event Ticketing on Shopify
Are you an event organizer using Shopify to sell tickets or admission passes? If so, we've got great news for you!  


Streamlining your ticketing process and providing a seamless experience for your attendees just got a whole lot easier with the help of QR codes. In this article, let's explore how you can leverage a low-cost and efficient QR code ticketing system to easily manage your current and future events.  
Benefits of QR Codes for Event Ticketing 
Gone are the days of paper tickets or hassle-scanning processes. QR codes are now the perfect tool to simplify and expedite event check-ins.  

With dynamic QR codes, attendees can simply present their mobile devices for a quick scan, making entry simple and hassle-free. Plus, dynamic QR codes are convenient for your event attendees and offer a touch of modernity to your events. 
Why integrate the QR Code Generator Hub app into your Shopify Store? 
QR Code Generator Hub is the go-to app for Shopify users seeking a reliable and user-friendly solution for event ticketing. This free QR code generator is known for its versatility and offers much more than
QR code creation
. It's a game-changer for event management. 

Ready to use the QR Code Generator Hub app? Don't worry, you don't need an advanced degree in coding to set this up! Here's how you can integrate it into your Shopify store and get started to generate QR code event tickets: 
Step 1:
Head over to your Shopify store admin, find the "Apps" section, and click the search bar to search for the QR Code Generator Hub app. 

This will direct you to the Shopify app store where you can click the "Add app" button to initiate the installation process. You can also click this
link
to go directly to the app store.

Step 2:
Click "QR Code Hub" on the left side of your screen and go to the "Order QR Codes" feature. Every ticket order will now generate a unique QR code. So, when your guests make a purchase, they'll receive an order confirmation email with their own QR code, which serves as event ticket.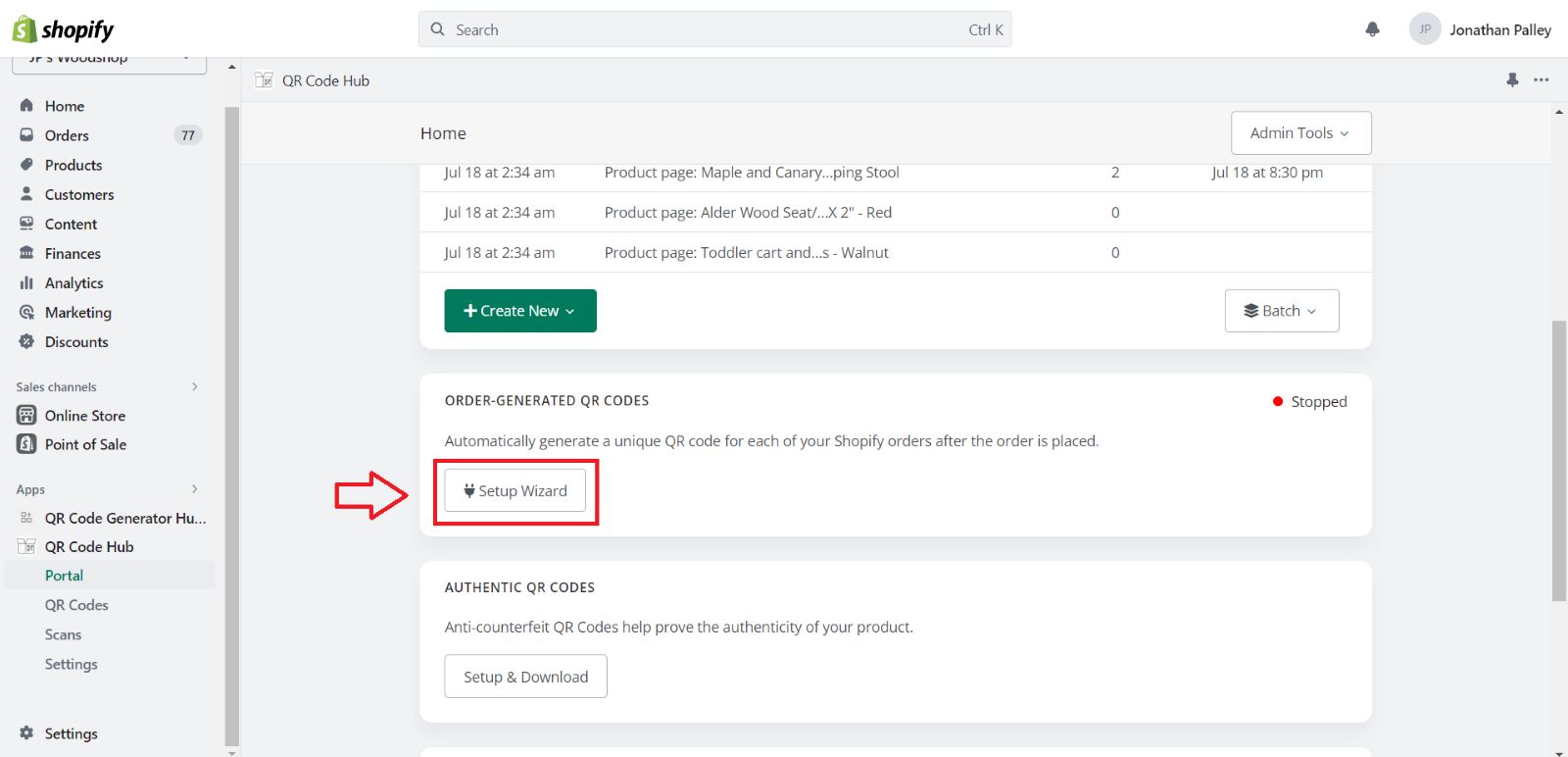 Step 3:
You want your event to stand out, right? Well, customization is the key! Go to the "Setup Wizard" and choose "Show the Scan History of QR Code (for ticketing)" to create QR codes.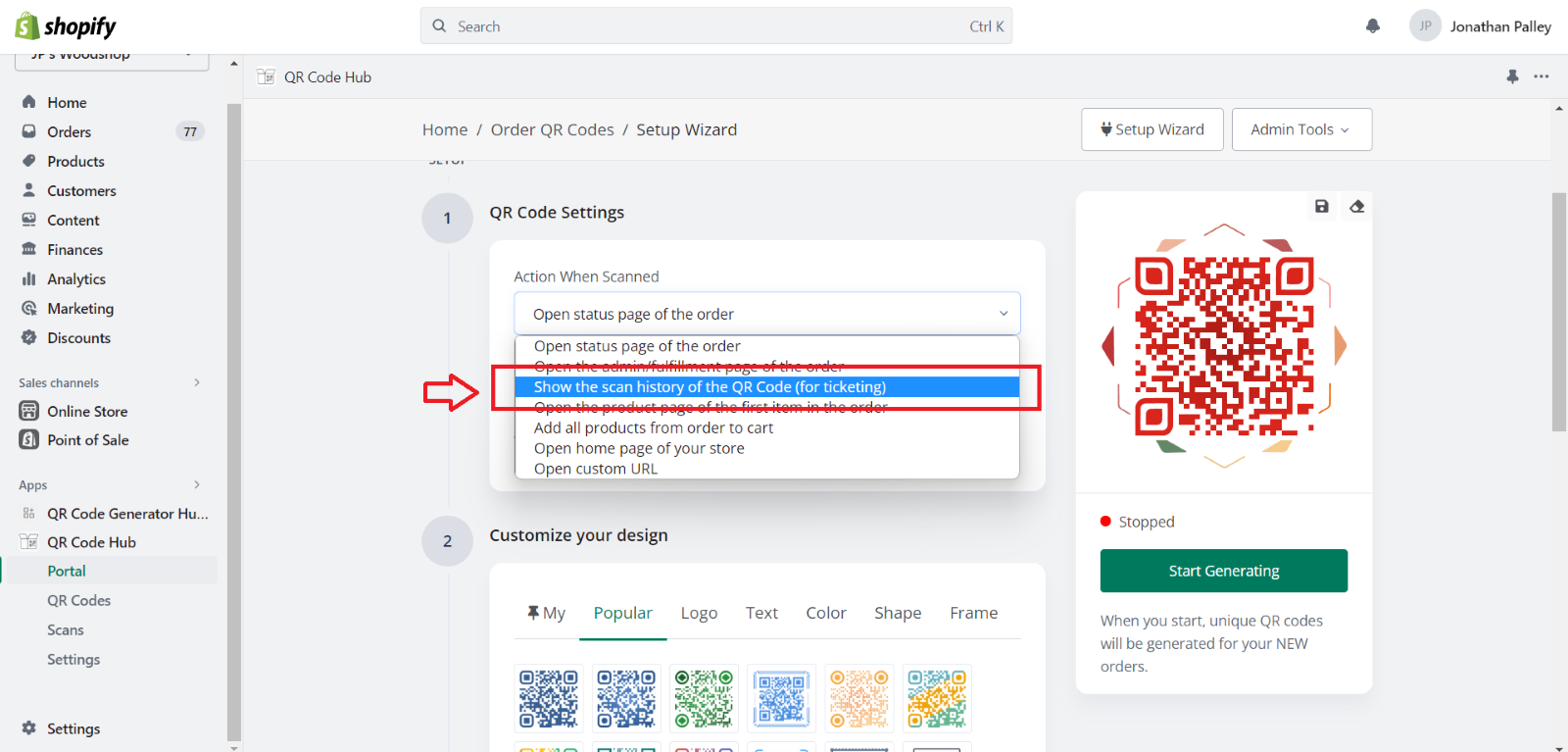 Don't forget to input the number of allowed QR code scans. Make sure to put only the allowed number of scans before the QR codes expire.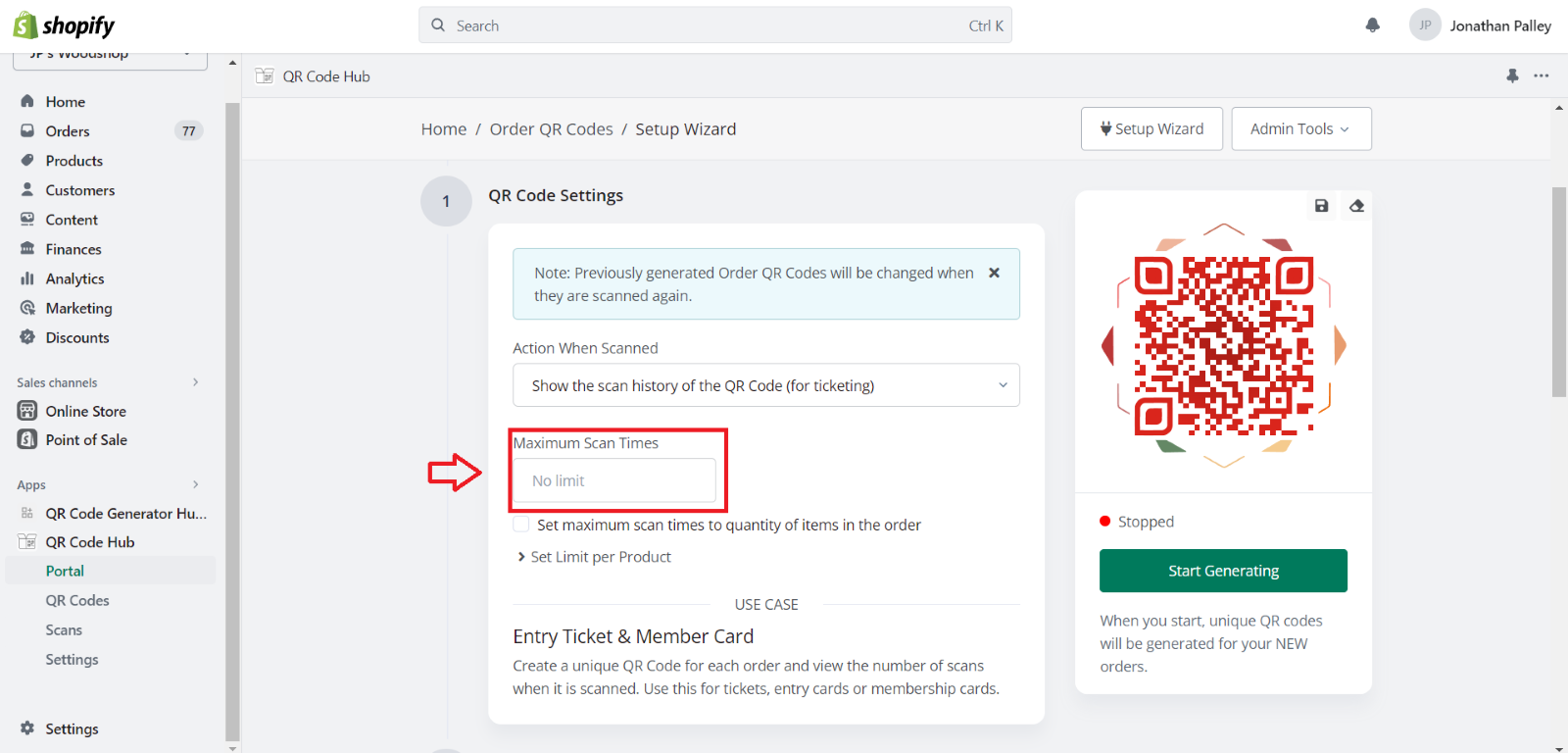 Step 4:
Customize your QR codes to match your brand or event theme. Get creative with colors, styles, logos, or even add a call to action.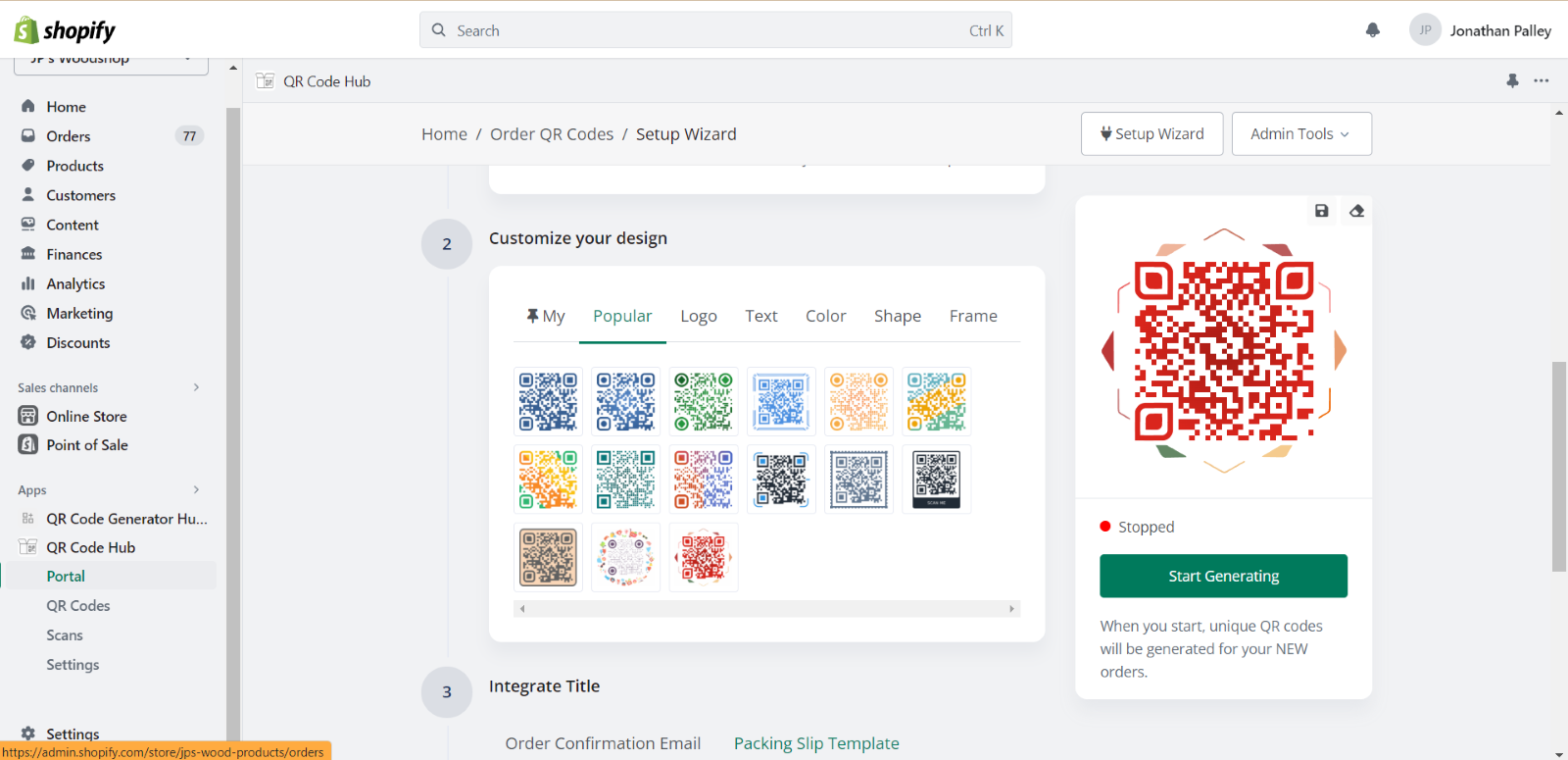 Step 5:
Next, paste the generated QR code into your order confirmation email template. Your guests will receive their QR code tickets along with instructions for event entry.
Step 6:
Now that your QR codes are ready to roll, it's time to integrate them seamlessly into your Shopify store. Just click the "Start Generating" to enable your audiences to receive QR codes through email.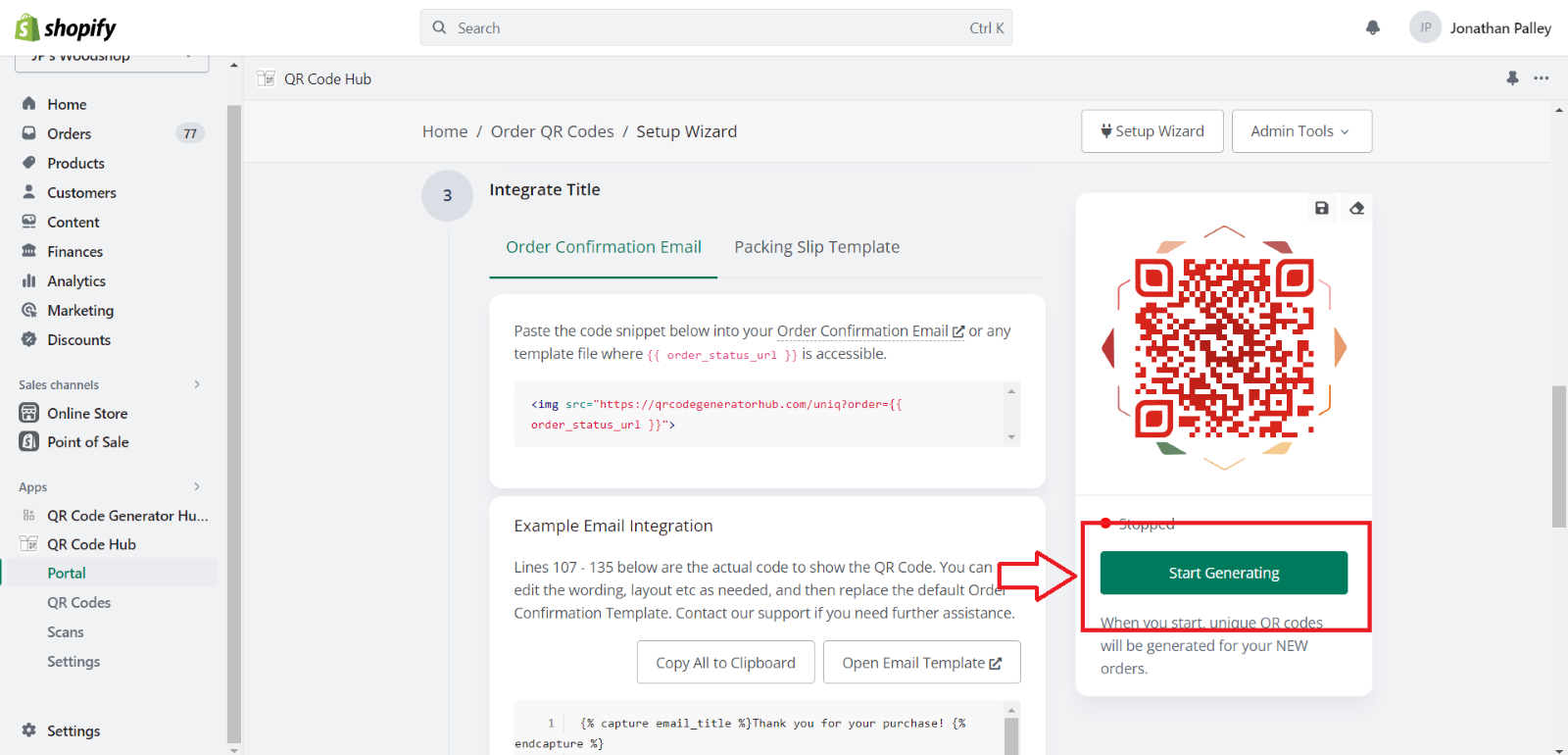 Conclusion 
Are you ready to revolutionize your event ticketing? QR Code Generator Hub is a game-changing app that unlocks the potential of QR codes for your Shopify event ticketing needs.  From easy installation to seamless integration and customizable ticketing options, this low-cost solution ensures a stress-free and memorable event experience for both organizers and attendees. 

No more stress or long queues; just smooth sailing and happy attendees. 
If you'd like to learn more about the QR Code Generator Hub Shopify app for event ticketing, just visit our
Academy
or
watch this video
.