Maximizing Shopify Apps: How QR Code Generator Hub Enhances Event Ticket Sales
Are you a Shopify store owner looking for an efficient and cost-effective way to sell event tickets? Or maybe you are wondering if can you sell tickets on Shopify? If so, then say goodbye to traditional ticketing systems and embrace the power of the
QR Code Generator Hub Shopify app
!  
In this blog, we'll show you how QR Code Generator Hub can sell event tickets on Shopify with QR codes and revolutionize your store's event ticketing process! 
Advantage of Employing QR Codes for Shopify Store Business 
So what's so great about QR codes? Well, there are a lot of reasons why!  


QR codes are more than just a tool for information sharing. With proper practices and integration, you can discover a range of strategies using
dynamic QR codes
For instance, dynamic QR codes help to streamline the check-in process at your events, making it faster and more efficient. No more fumbling over paper tickets or dealing with scanners that just won't cooperate. And if you don't have a scanner, then you can use smartphones.  


Besides convenience, dynamic QR codes also boost event security. They significantly reduce the risk of ticket fraud, as each code is unique and trackable.  


With the QR Code Generator Hub app, you're in control of every process within your store! 
Why QR Code Generator Hub? 
There are many reasons why this incredible free QR code generator app is the key to smoother ticket selling and enhanced customer experiences.  


If you're wondering why QR Code Generator Hub is a game-changer for event ticket sales, the short answer is "convenience."  It's an incredibly user-friendly app and seamlessly integrates with your Shopify store.  


You don't need to be a tech wizard or IT pro to set it up; just a few clicks, and you're good to go!  


The best part? QR Code Generator Hub is budget-friendly, saving you from costly ticketing solutions that lower your profits. 
Issuing Unique QR Codes for Each Ticket Order 
Say hello to personalized experiences!
  
One great feature of QR Code Generator Hub is its ability to generate unique QR codes for individual orders. Plus, you can also set it up for email automation so that your customers can easily receive their own dynamic QR code.  


For instance, every customer who purchases a pass or ticket will receive an order confirmation email containing a unique QR code. This code will serve as their ticket to the event.  
Implementing QR Code Ticketing on Shopify: A Step-by-Step Guide 
Setting up QR Code ticketing on your Shopify store is easier than you think! All you need to do is to follow these simple steps to get started: 


Step 1:
Access QR Code Generator Hub in Shopify's App Store and install it in your store admin.

Step 2:
Head over to the "Order QR Codes" section and click the "Setup Wizard" to create unique QR codes for each order.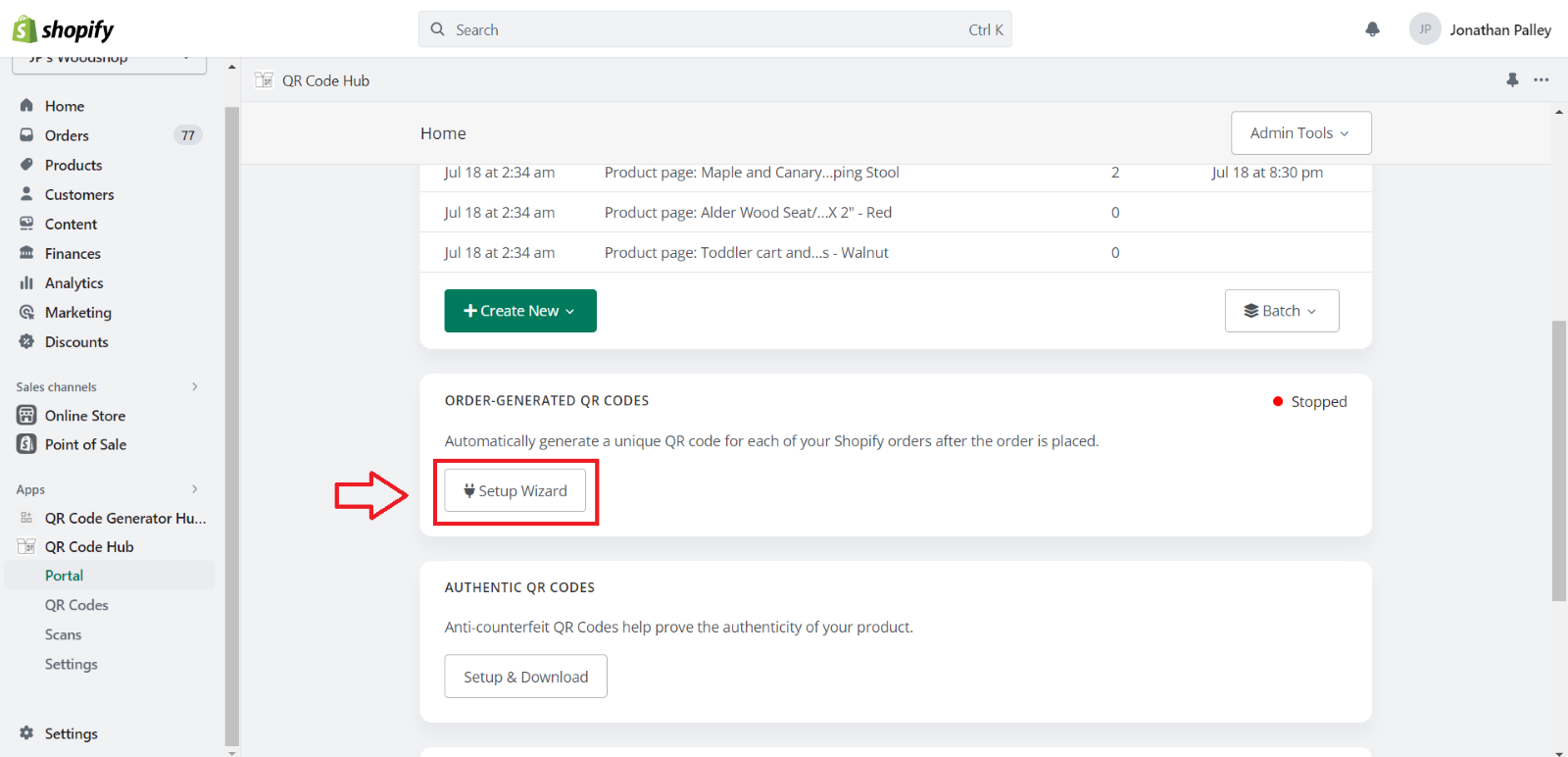 Step 3:
In the setup wizard choose "Show the Scan History of QR Code (for ticketing)".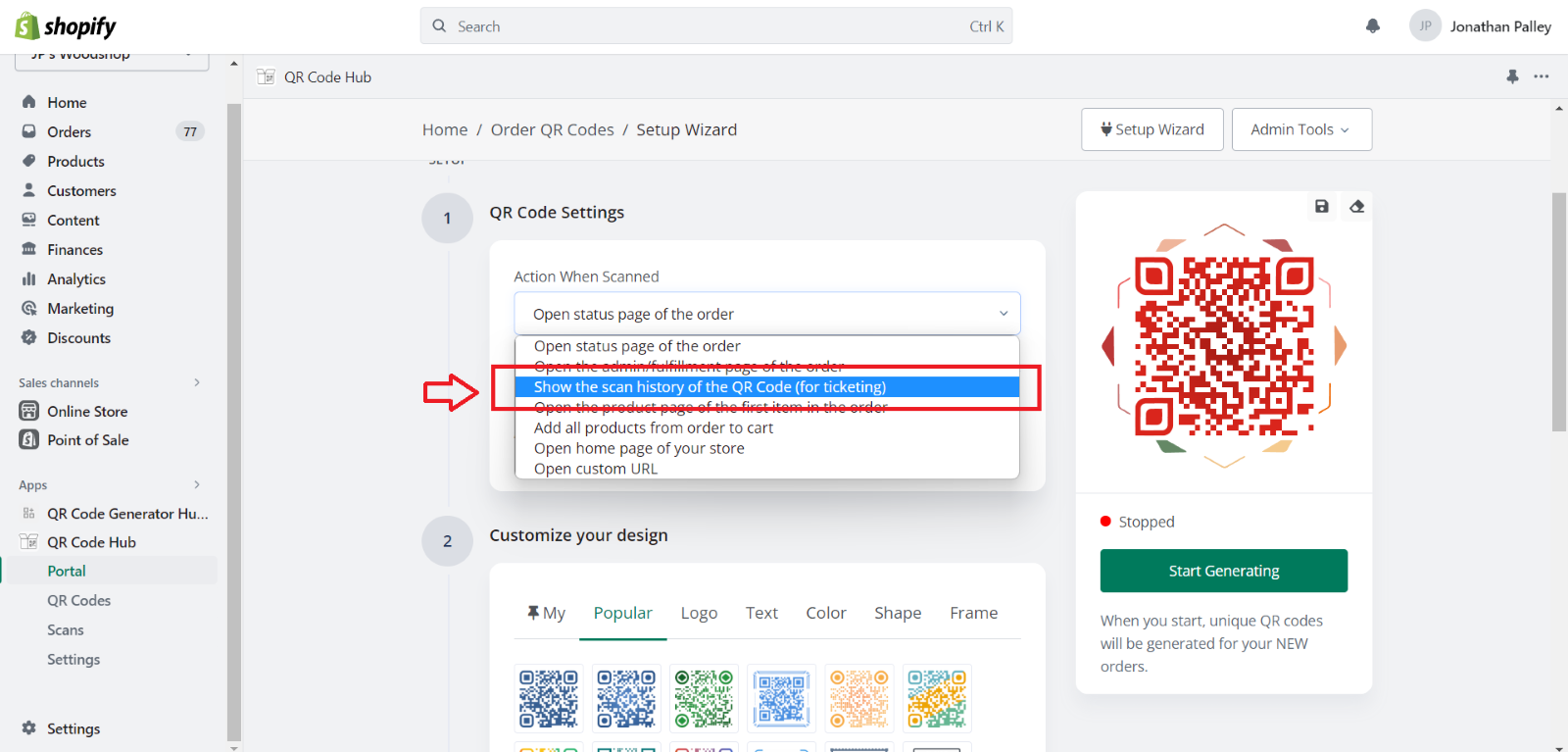 Input the number of QR code scan limits.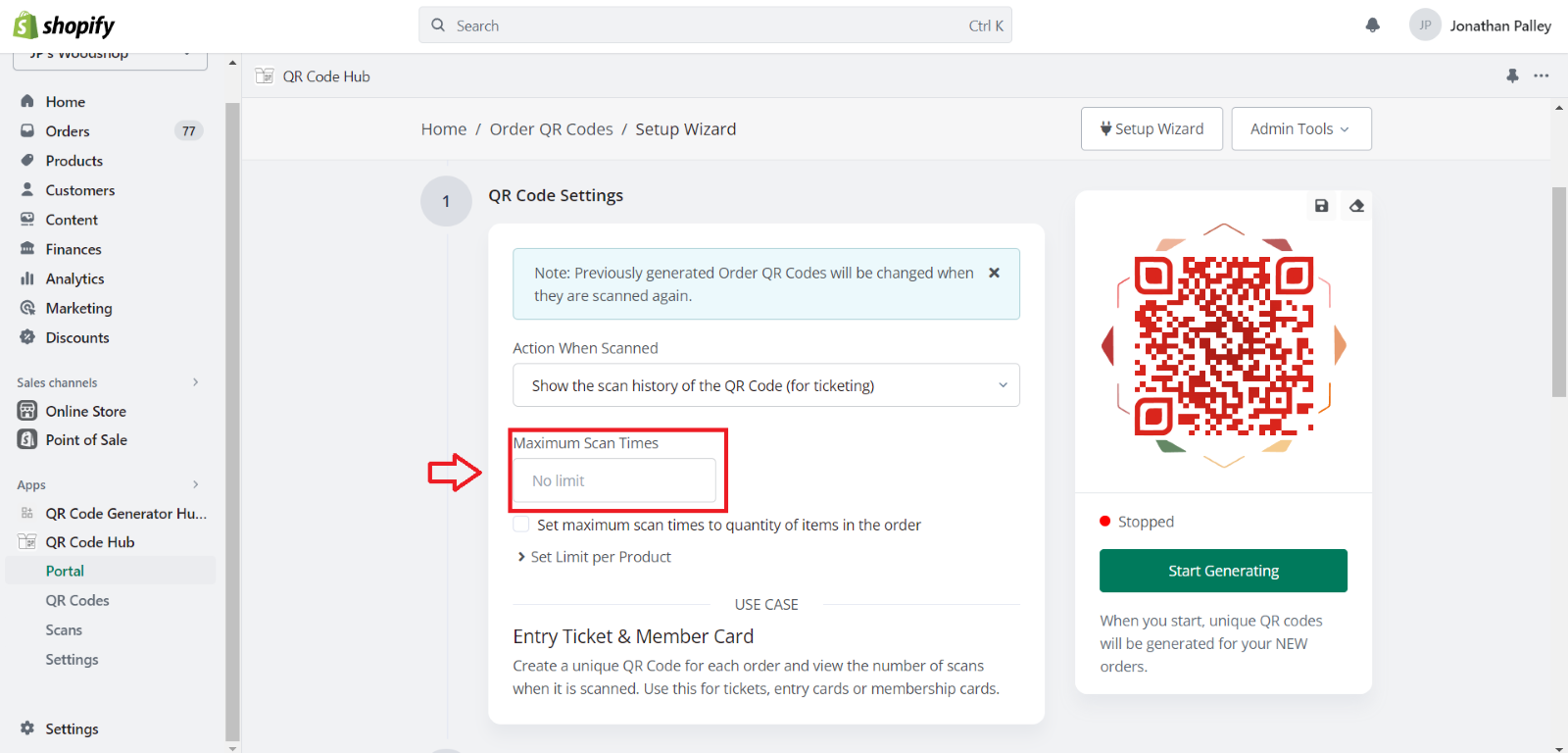 Step 4:
Customize your QR codes to match your brand and event theme. Make it eye-catching and uniquely yours!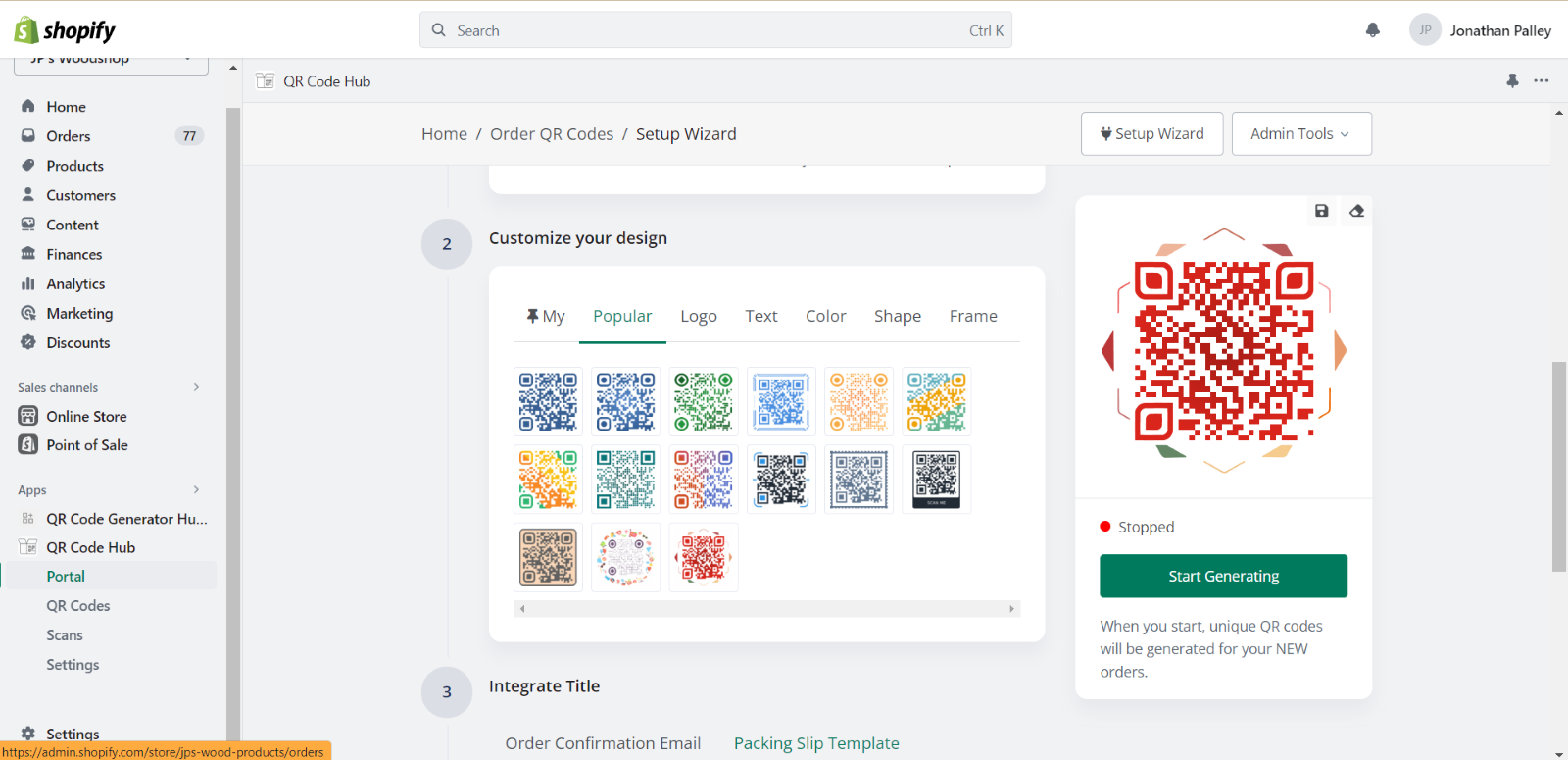 Step 5:
Copy the code snippet into your Shopify store order confirmation email. Once done, you may now click the "Start Generating" button to automate your emails with QR codes. Don't forget to add instructions like "Show this at the entry to your event" for your attendees.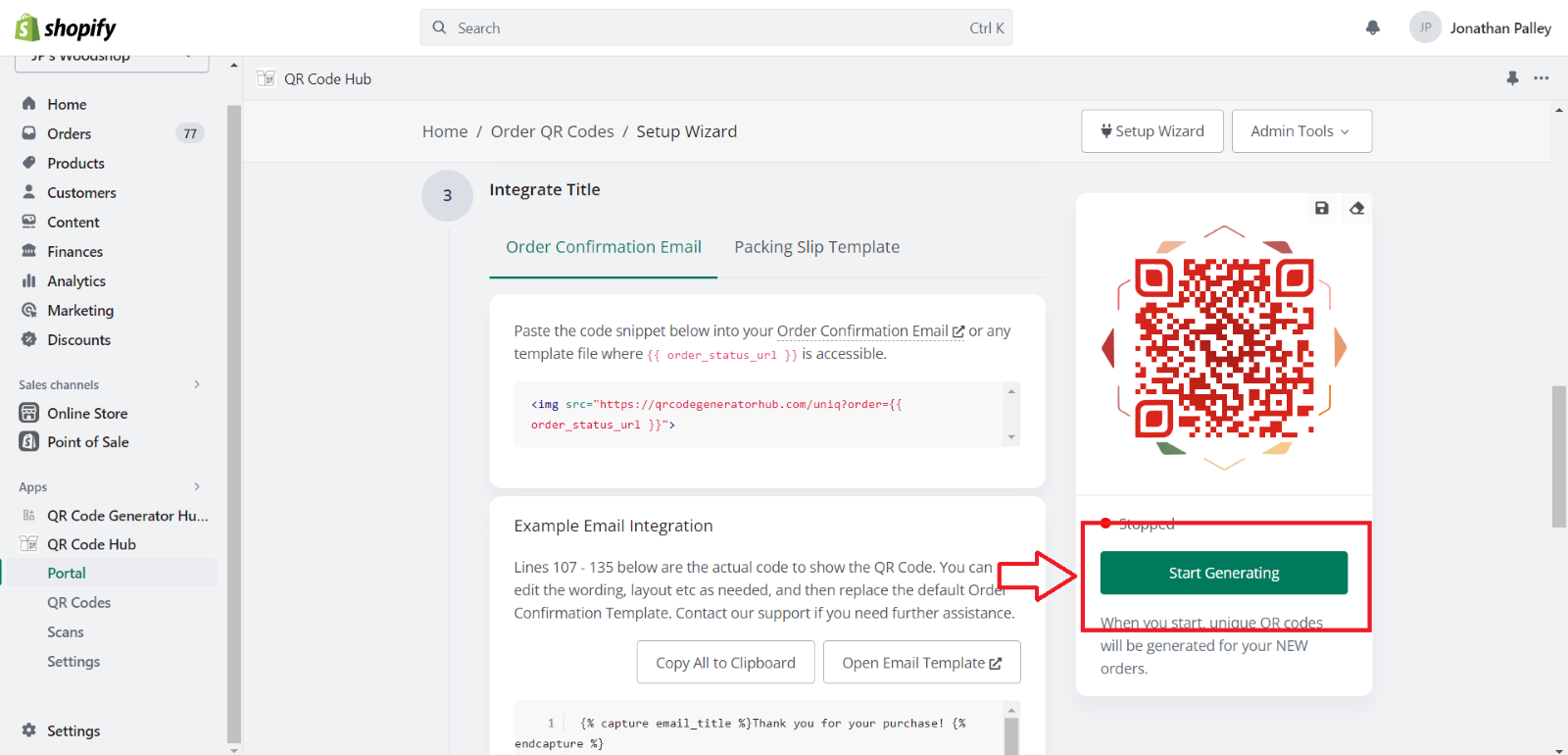 QR Code Scan History for Event Management 
Now, the benefits of the QR Code Generator Hub app for Shopify go beyond ticket creation. The app also comes with a tracking and analytics feature that allows you to track each QR code's usage.  


Don't forget to set the number of scans allowed per code based on your event type – single-use or multiple-use tickets or rentals.  


With this data, you can monitor attendance, manage entry, and even analyze historical data for future event planning and marketing strategies. QR Code Generator Hub is a must-have app for Shopify store owners looking to maximize event ticket sales. It's a user-friendly, budget-friendly, and highly effective solution that enhances the ticketing experience for both you and your customers.