How to Generate a QR Code for YouTube Video?
Looking to promote your YouTube videos with a QR code but not sure where to start? To make QR codes, you can try the easiest way with
QR code generators online
. 

There are a lot of options available that you can choose from. Plus, these QR code generator tools are free. Simply put, you can cut down the cost of video promotion by simply employing dynamic QR codes.

So what tool is perfect for this job? One popular tool that supports creation is QR Code Generator Hub. It is a free online tool that provides a powerful user interface, allowing you to generate a QR code in a matter of seconds. 
Steps to Creating a Youtube QR Code
Creating a QR code does not require any type of technical skills to use. All you need is to prepare the video link and sprinkle some of your creativity when designing the YouTube video QR code design. 

Just follow the steps outlined below to get started:
Step 1:
Open your web browser and go to
QR Code Generator Hub
.

Step 2:
On the website, look for the "Target" panel and select the "URL" option.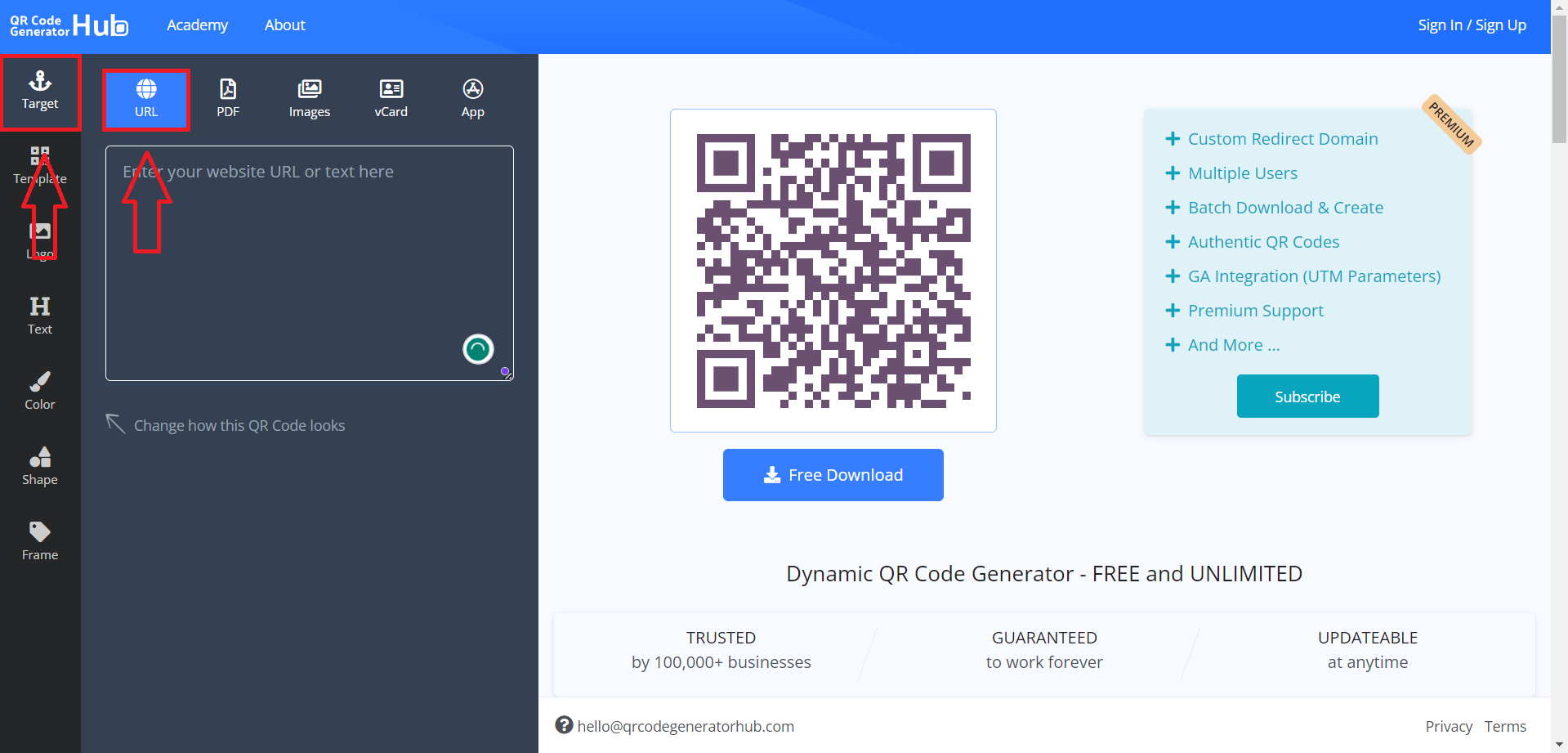 Step 3:
Type or paste the YouTube video URL in the provided field below.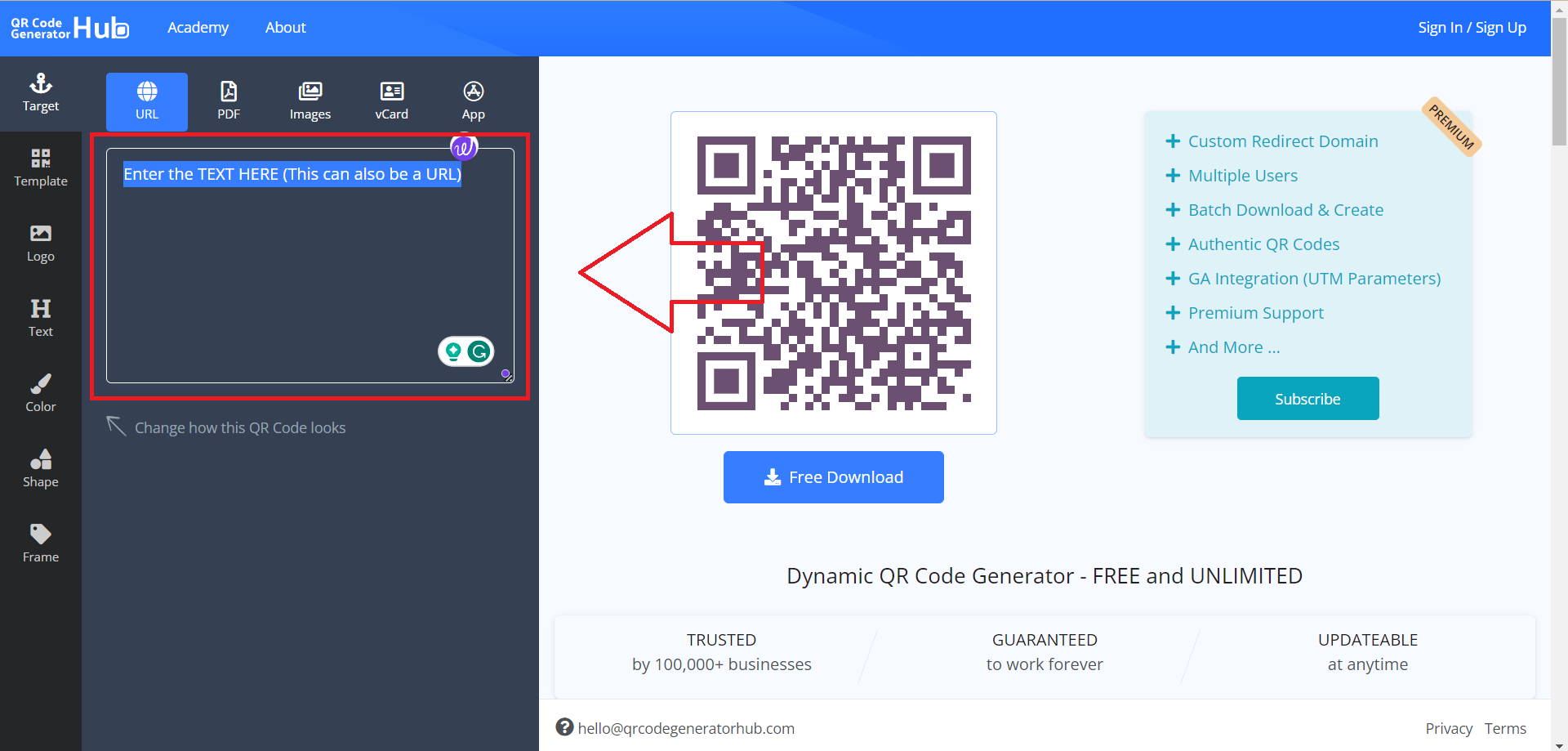 Step 4:
Customize the dynamic QR code to
make it more personalized
and professional. Feel free to include a logo, color, font, frame and shape.
Step 5:
When you're finished, click "Free Download" and you are done.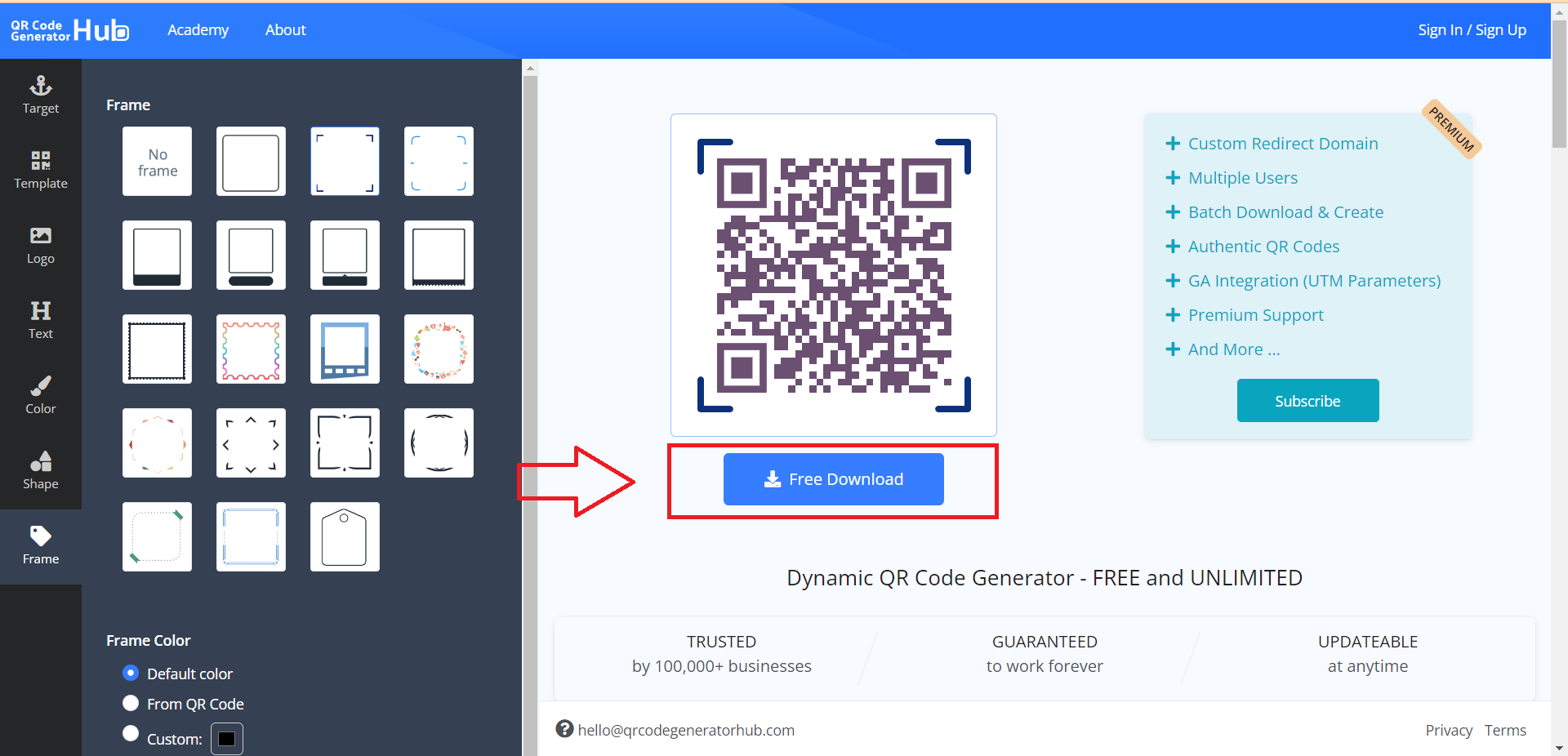 These are everything you need to know about how to make a QR code for a YouTube video. So the next you are looking to promote your videos or channel, make sure to use QR Code Generator Hub.  

TIP: You can also use QR Code Generator Hub to monitor QR code performance and scan rate. With its free built-in tracking feature, you can empower your analytics and marketing campaigns. 
Common Use Cases for YouTube QR Codes
Listed below are some of the recommended ways to use YouTube QR codes for marketing purposes:
Event promotion
Add QR codes on event tickets, banners, or signage to direct spectators to YouTube videos providing event highlights, previews, or exclusive content.
Product demonstrations
Include QR codes on product packaging or displays that link to YouTube videos that demonstrate how to properly use or assemble the product.
Educational resources
You can also embed QR codes in textbooks, workbooks, or instructional materials to provide students with access to extra YouTube videos.
Music releases
Placing QR codes on album covers, posters, or promotional materials allows fans to be directed to music videos, behind-the-scenes footage, or interviews on your YouTube channel.
Video tutorials
You can also try to create QR codes for instructional films or lessons on your YouTube channel, allowing viewers to readily obtain step-by-step instructions on a number of topics.
Travel vlogs
QR codes on travel brochures, tourist maps, or city guides also help to easily connect visitors to your YouTube channel, where they can watch your travel vlogs and be inspired to go on their own adventures.
Promotional materials
Social Media Profiles
Generate QR codes that link directly to your
YouTube channel
, making it easier for your followers to access and subscribe to your video on social media platforms.
Conclusion
Venturing a YouTube channel has been considered by many as a lucrative source of income or side hustle.

However, what most people don't know is that it takes more than great content to make this possible. Thus, having a YouTube QR code generator as your companion plays a crucial role in achieving success.

Using a Youtube QR code can help your channel boost its promotion which results in higher viewership.