How Can I Customize the Design of My QR Code to Match My Brand and Style?
If you are a Shopify store owner, you might wonder how to make the most of custom QR code design and create a lasting impression on your customers.  

The answer lies in customizing your dynamic QR codes to match your brand and style. With popular Shopify QR code generators like QR Code Generator Hub, you can easily create a professional QR code design that aligns with your brand identity.  

In this blog post, we'll discuss the important steps you should follow to create a customized design for your QR code to make your brand memorable for your customers.  

Let's start! 
Understanding QR Code Customization 
In today's digital world, Quick Response (QR) codes have become an integral part of marketing strategies. It offers a seamless way to engage customers and drive online traffic.

While a generic, black-and-white QR code may get the job done, it lacks the visual appeal that resonates with your brand identity and style.
Step-by-Step Guide for Customizing Customize QR Codes with QR Code Generator Hub Shopify App 
With the QR Code Generator Hub app for Shopify, you can take your custom QR codes to the next level. You create a visually stunning QR code with logo that perfectly represents your brand identity and style.

All you need to do is use this free QR code generator and follow these steps to maximize the app's benefits and elevate your marketing efforts. 
Step 1:
Begin by accessing your Shopify admin panel. Navigate to the search tab section and look for "
QR Code Generator Hub
" in the Shopify app store. 

Once you find the dynamic QR code generator, click on "Add App" to integrate it into your Shopify store. This should only take you a few minutes.

Step 2:
After installing the app, access the "QR Code Hub" app from your Shopify admin panel. On the app's dashboard, you'll find the "Create New" button. Click on it to start customizing your
dynamic QR code
.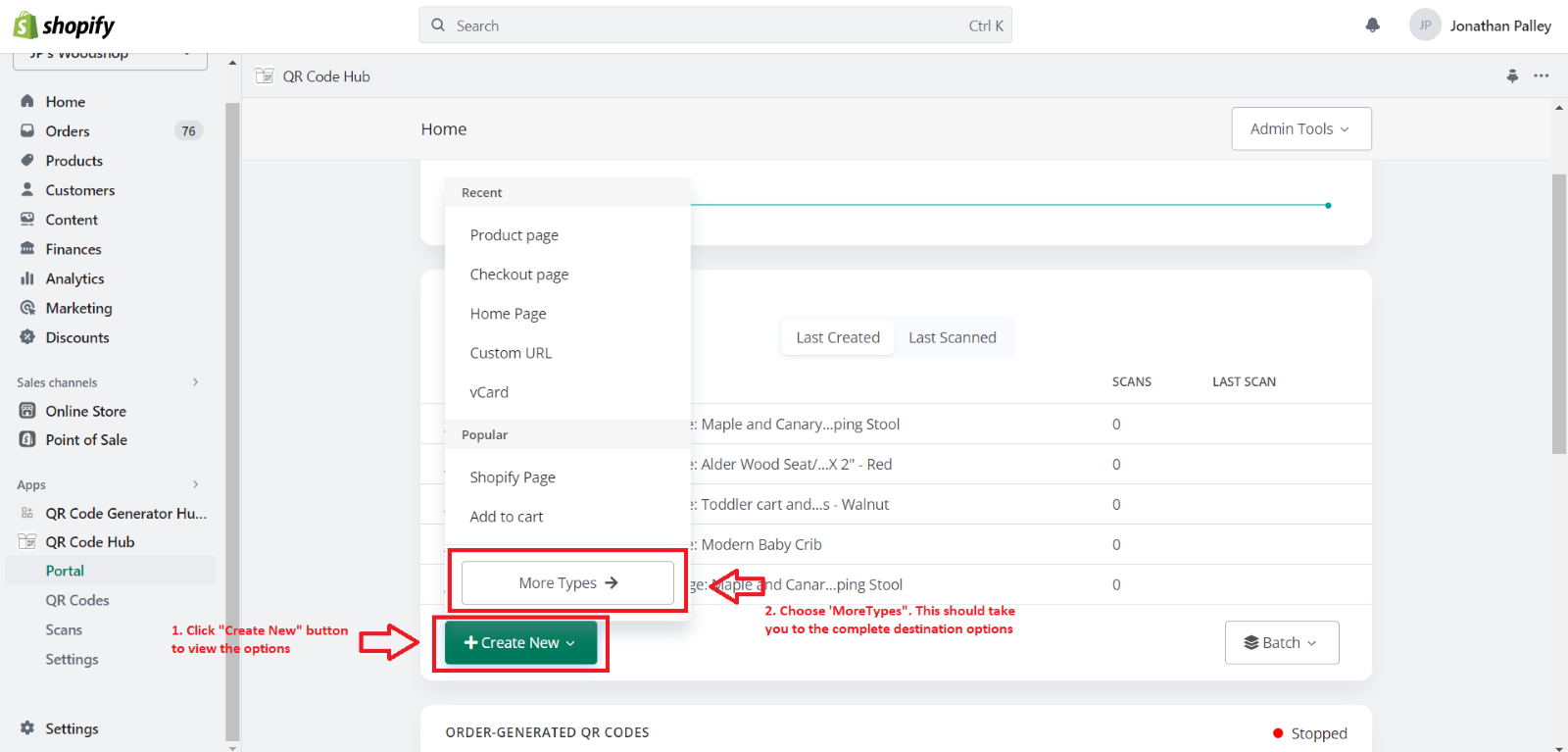 Step 3:
Choose the destination where you want your custom QR code to point. You have various options, such as directing users to any Shopify page, a collection, a specific product page, the checkout page, or an add-to-cart page. Select the most relevant destination for your QR code.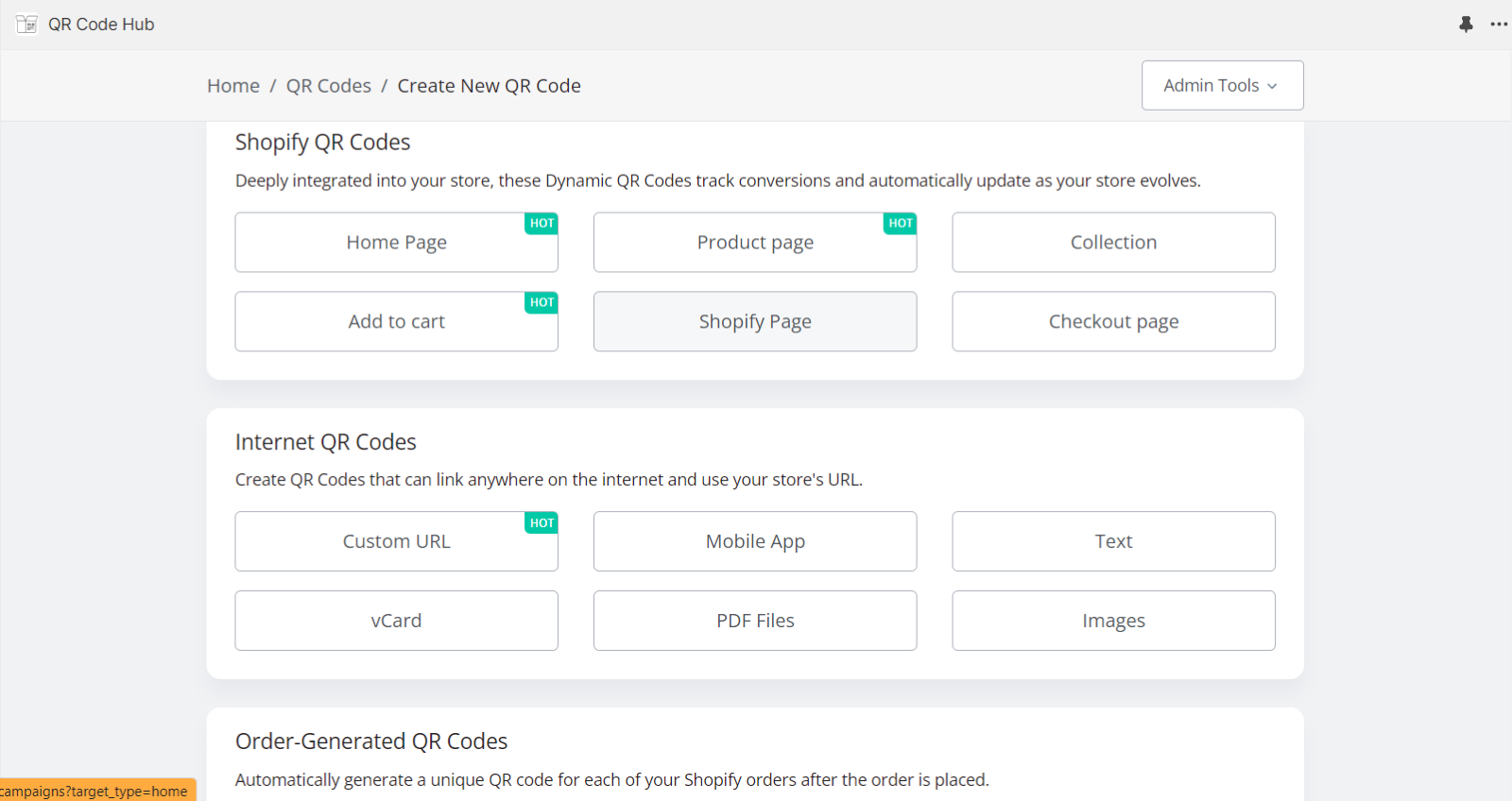 Step 4: If you wish to incentivize customers, you create dynamic QR codes that automatically apply discounts for every product purchase in your store. For example, if you choose "Product Page" as the destination option, you can find a check box where you can manually input the discount code created in your store.
To learn more about how to create QR codes for discounts, check out
this guide
.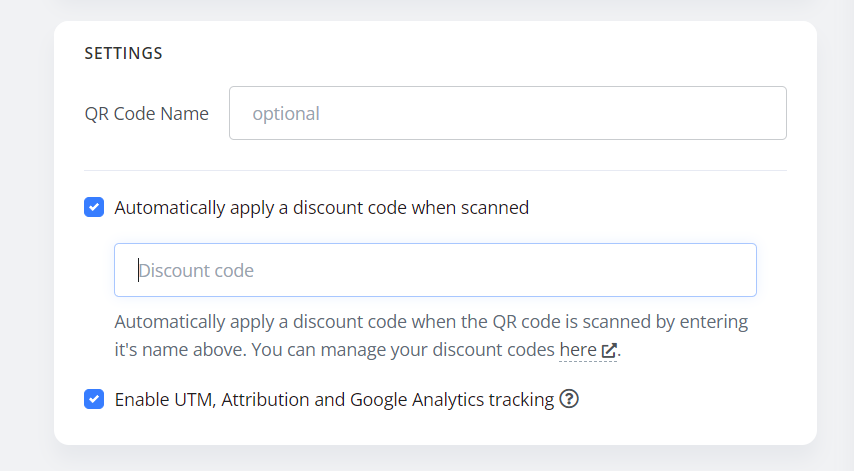 Step 5:
Here comes the fun part! Customize the appearance of your own QR code to match your brand and style. On the app interface, you'll find several design customization options to choose from.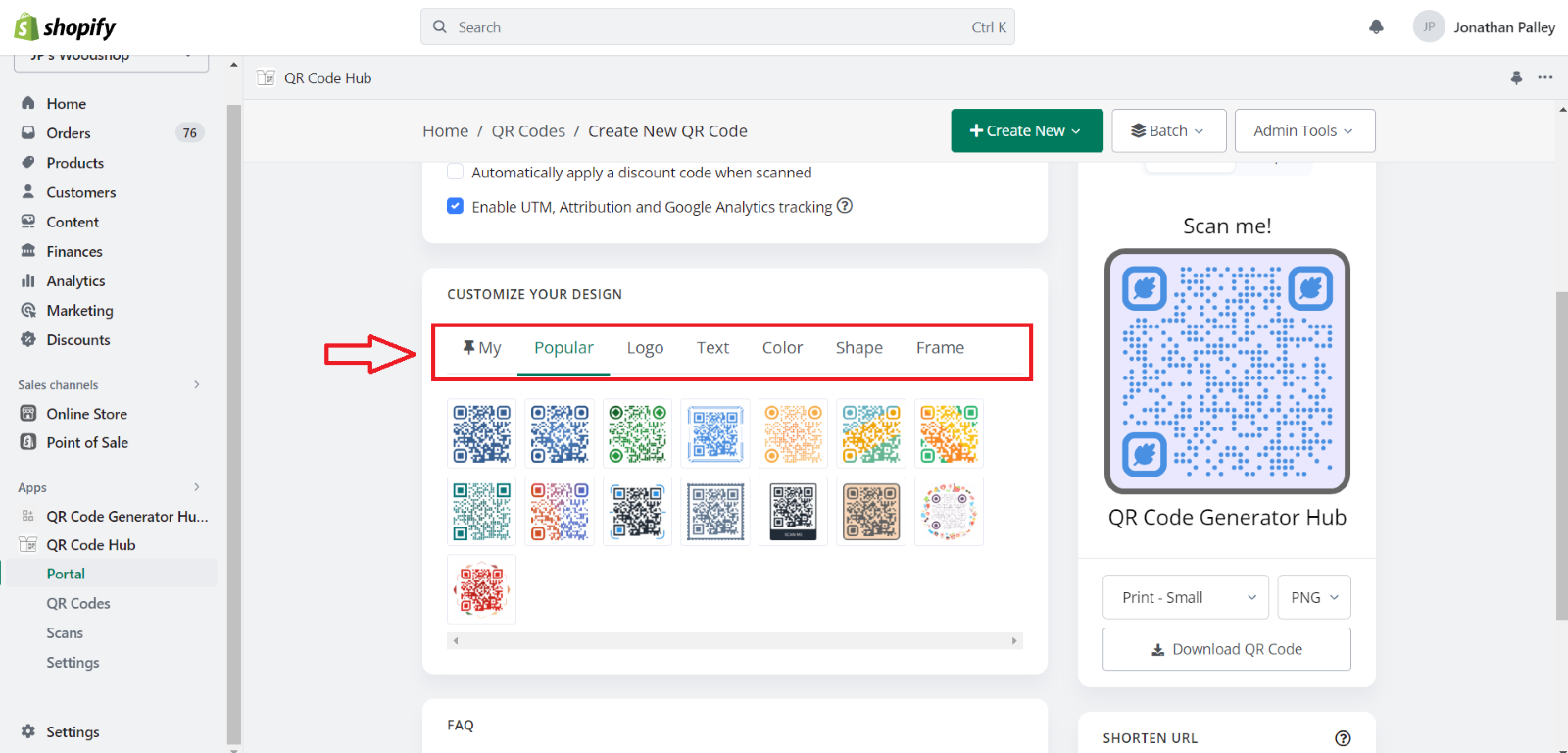 Feel free to upload your brand logo to the QR code to create a personalized touch. You can also adjust the size, shape, and position of the logo to suit your preferences. 

Play with a wide range of colors and gradients to make your QR code visually appealing. Match the colors to your brand's aesthetics, ensuring that the code seamlessly blends with your marketing materials. Don't forget to include text on the custom QR code or any other message you want to convey to your customers.  
Step 6:
Once you're satisfied with the design, it's time to download your customized QR code. The app offers different formats like PNG, JPEG, or SVG, depending on your specific needs. Choose the appropriate format and download the QR code to your computer.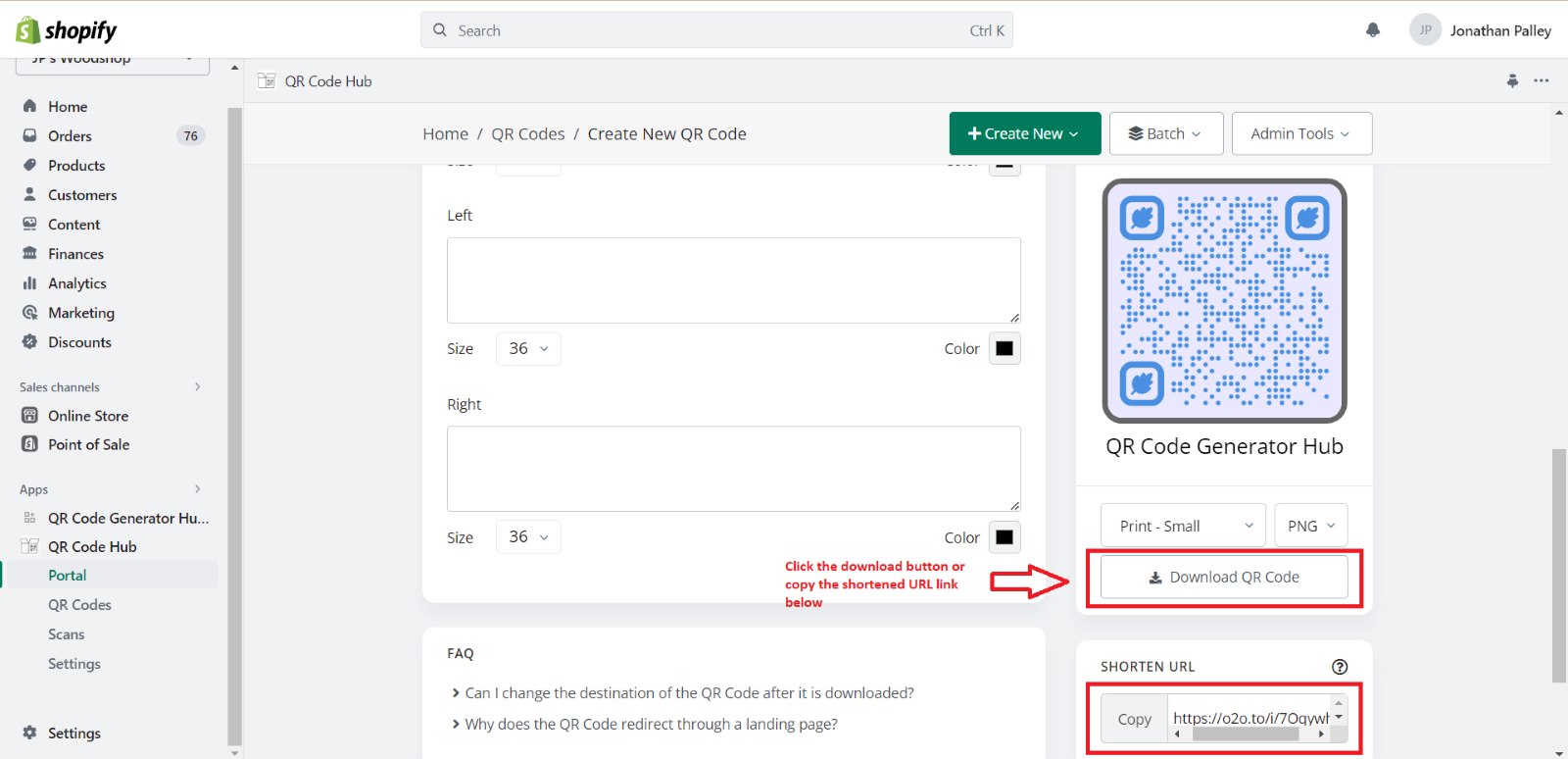 Advanced Features for Personalization 
The QR Code Generator Hub app also takes customization to the next level with its advanced features.

Leveraging these helps to enhance customer experience and streamline your operations. These two advanced features are the following: 
1.
Creating Unique QR Codes for Each Order:
Personalize the
QR codes for each order
, allowing customers to scan and access their order tracking information effortlessly. This feature adds a sense of exclusivity and convenience for your customers. 
2.
Bulk Creation and Downloading:
Efficiency is key when managing multiple products or campaigns. Utilize the
bulk creation and downloading feature
to streamline the process, ensuring you have customized QR codes ready to go. 

Customizing QR codes with the QR Code Generator Hub app for Shopify is an excellent way to showcase your brand identity and style.  

By following this step-by-step guide, you can create visually captivating QR codes that engage customers and elevate your marketing efforts.  

So what are you waiting for? Take your business to the next level by using this free app.