What do you do with a QR code text?
There are many ways to use plain text QR codes once you have generated them. You can use them for your individual, professional or business needs. Keep in mind that QR codes are versatile tools which means that they can cater to all your needs. 

If you are a business owner, here are some ideas to use:
Text-Based URLs
Instead of inputting
long URLs
, you can encode website addresses using plain text QR codes. Users can visit the linked web page by scanning the dynamic QR code with a scanner app or their smartphone's camera.
Wi-Fi Network Configuration
You may include Wi-Fi network information in a QR code, such as the SSID, password, and encryption technique. Instead of entering information manually, consumers can connect to the internet by scanning the QR code. Unlike static QR codes, you can use dynamic QR codes anytime there is a need to update without changing its design.
Contact Information
Add custom QR codes on
contact details
such as a person's name, phone number, email address, and website URL. By eliminating the need for manual input, a custom QR code helps to simplify the process of exchanging contact information.
Loyalty Cards and Coupons
Creating QR codes for loyalty cards and
coupons
to enable consumer transactions to be tracked and discounts to be provided. Customers can redeem loyalty points or take advantage of promotional offers by scanning the QR code at the point of the transaction.
Authentication and Two-Factor Authentication
A text QR code can also be used in authentication systems, especially two-factor authentication. For enhanced security, customers accessing a service can use a smartphone app or a QR code scanner to obtain a one-time password or verification code.
Personal Messages or Notes
You can employ QR codes to encode personal messages or notes. This can be beneficial for securely sending confidential information or leaving messages that the intended recipient can quickly view using a QR code scanner.
Product Information
Plain text QR codes can be used on
product packaging
to provide additional product information. Ingredients, nutritional information, manufacturing date, and expiration date are examples of such information. Customers can easily obtain the information by scanning the QR code.
Event Tickets
QR codes are often used for
authentication on event tickets
. Rather than using standard paper tickets, organizers can use plain text QR codes with unique identification information. Attendees can gain entrance to the event by scanning the QR code with their smartphones.
Steps to Creating Plain Text QR Codes
There are many ways to create high-quality and visually appealing QR codes. One tool that can help you with these is QR Code Generator Hub. 


Here's how you can use this free QR code generator tool:
Step 1:
Open your browser and go to
QR Code Generator Hub
.

Step 2:
Hover to the "Target" menu and click the "URL" option.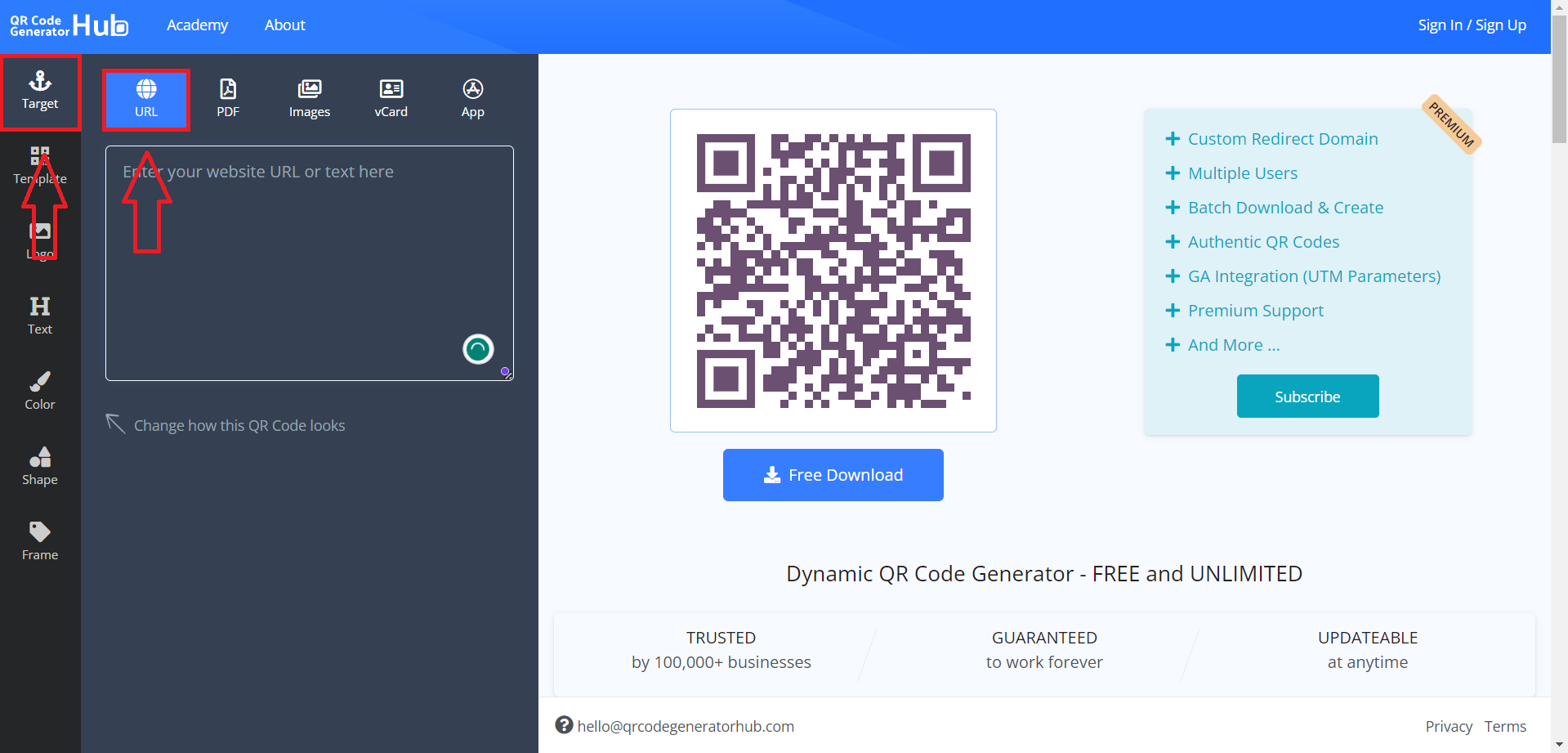 Step 3:
Enter or paste the text you want to store in a QR code.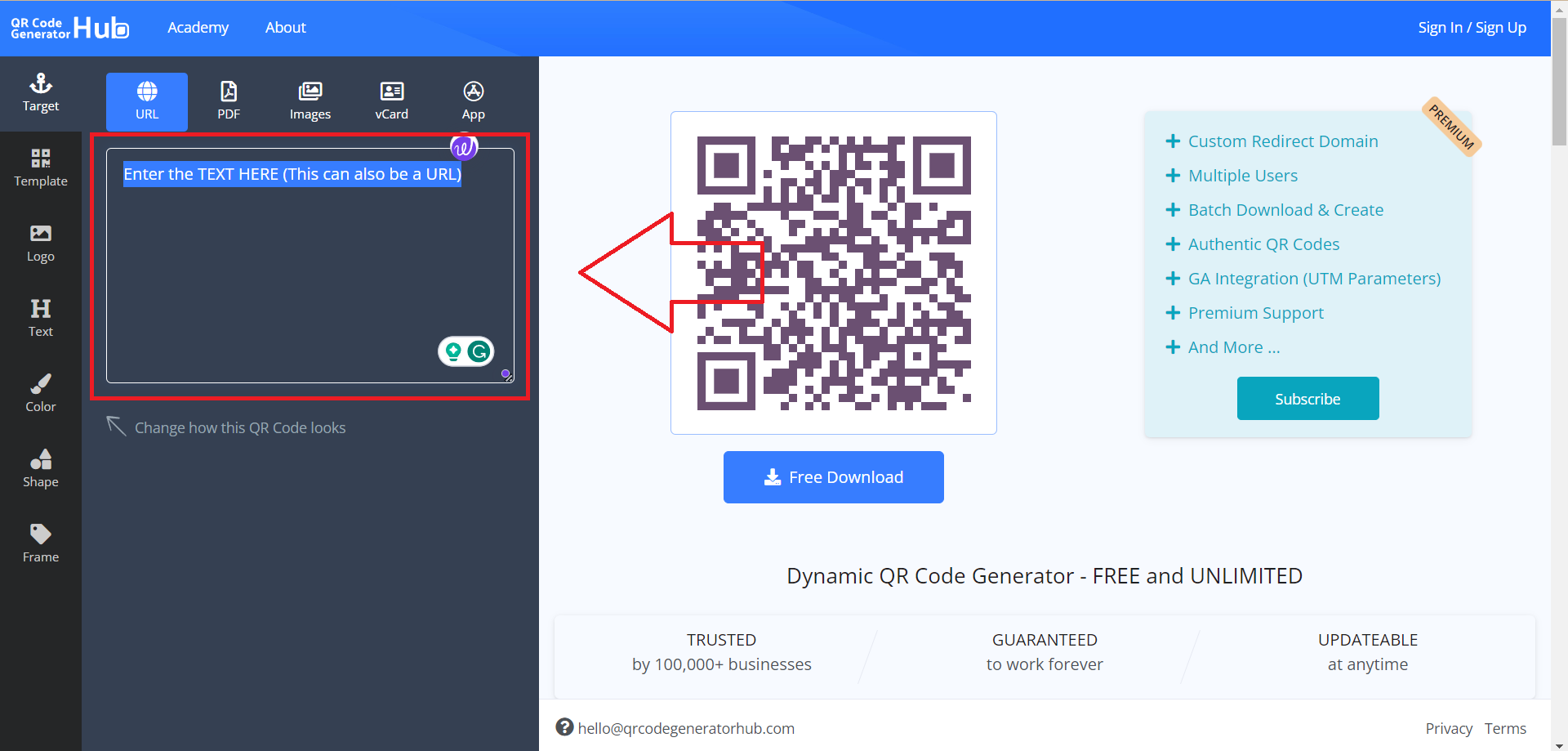 Step 4:
Customize the QR code design.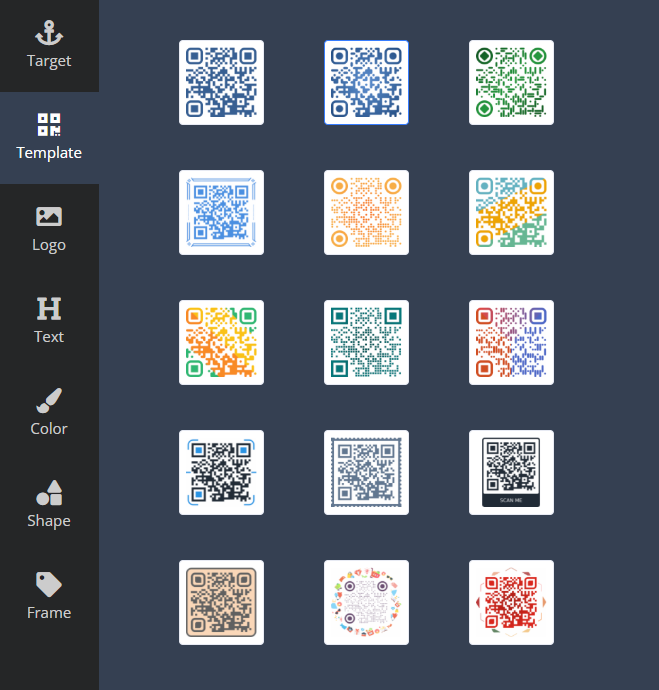 Step 5:
Hit the "Free Download" button and you can start adding the QR code to your materials.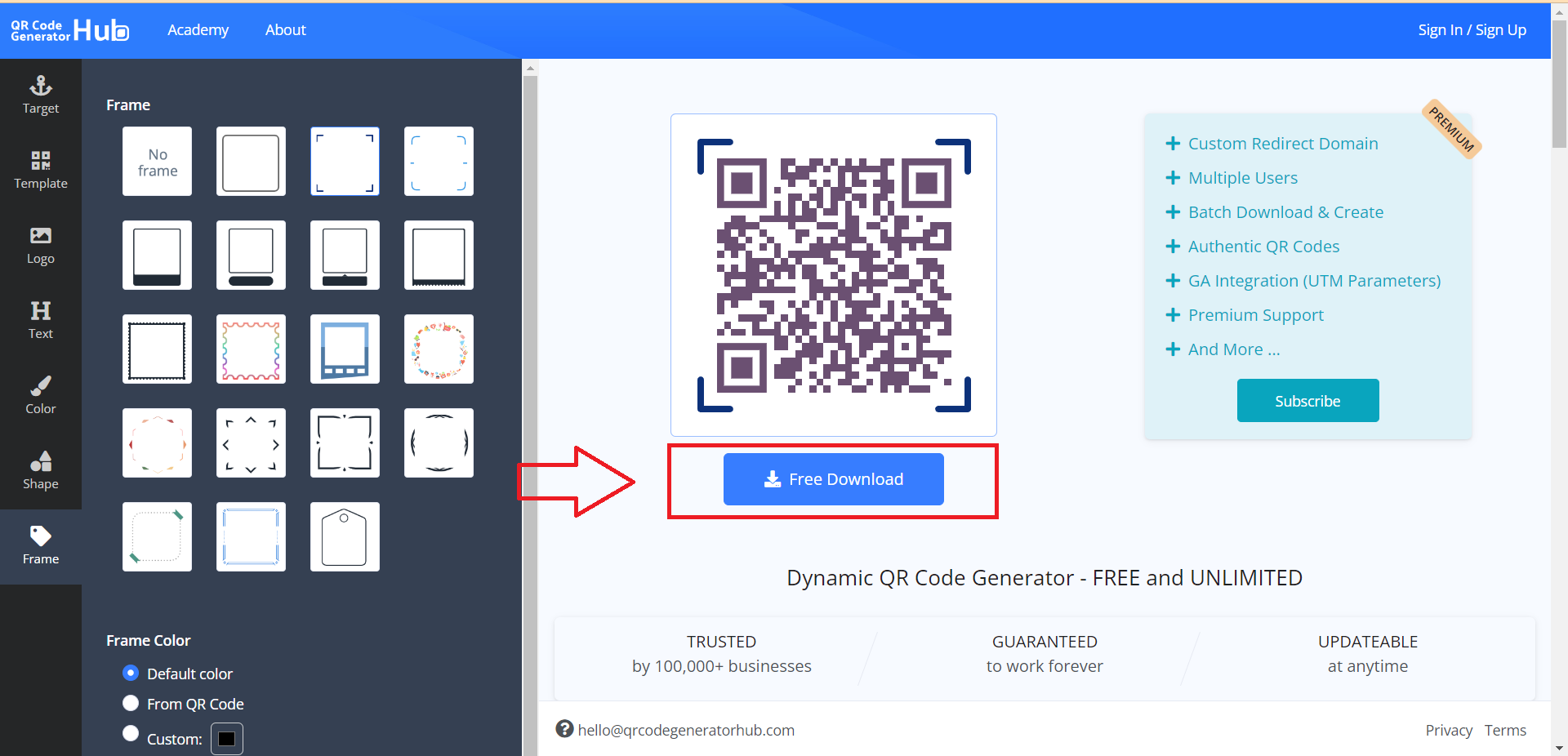 Don't forget to scan the code after you create and customize it. This is a great practice to ensure that your QR codes are ready to work anytime once distributed.
If you'd like to learn more about the benefits of QR codes for your business, feel free to visit our
Academy
and
YouTube channel
for more.